Ok, I realize everyone think's it's weird to say a gymnast is sexy because  a lot of them are 16 and under, but this girl is the exception to that rule. Being the oldest member of the U.S. Gymnastics team  at Beijing, Alicia is not your normal gymnast Jail baiter. Alicia Sacromone is 21 years of age so she can do anything anywhere. This girl has a very pretty face with the ooooodles of athletic ability to boot. The guy who ends up with this retired Olympian will sure have a great gene pool to produce more top talent atheletes. We can only hope however that he doesn't upset her because I know for a fact that this lady packs a solid punch. Just look at her in college knocking out some guy who dared her too. What a idiot.

This girl is hot and you all should think so.
Well eventhough she recieved silver in the games, she scored gold within the sportsroids.com team's hearts. Alicia we salute you for bringing us effort and a body in US gymnastics that we wouldn't get put in prision for complimenting. Here's to you we feel that TMZ just wasn't fair on you either. Shame on them for posting this video!
Alicia Sacramone — Olympic Loser Talk


Alright fellas, I would like to introduce you to our newest Sportsroids.com hotty. She is a Former FC Nuremberg soccer player, who just so happened to turn into a porn star. Her name is Eva Roob, and you might see her working under the stage name Samira Summer. She is great to look at and guess what everyone, she has a accent. This girl knows how to play in the field and kick around balls all day! Sportsroids.com would like to salute the work of this nice young lady. It must take lots of time to be able to make such a big transition. Atleast now she doesn't have to worry about being offsides, atleast I don't think so! Well enjoy some of the photos and videos of this superstar soccer star, gone wild!
Eva Roob washing a car with one of her friends at Import show in 2009

Eva Roob Interview

This week's hottie is going be more than a little bit extreme than normal. I was just glancing through the internet and I found a girl who had an extremely large bottom. Without a doubt the largest one I had ever seen on a fit girl.  As many of you already know when your glancing through photos on Google images, sometimes certain things will always  draw your attention. Trust me people this is one of them. I don't care if you are a woman or a guy, nobody would just click by this week's Sportsroids Hottie, Andressa Soares! This girl has enough buns to feed all the starving children in this world for one week.
They call her "Watermelon Woman" because she has butt cheeks that can only be rivaled by two large watermelons. Thats no joke! 
I am sure she has flaws but it is  sure nice to see a girl who doesn't starve herself and enjoys working out. I have never met a girl who can enjoys squatting and not worrying about getting bulky. It sounds stupid but I really really love  that she does squats and other lifting exercises!

Everyone loves a pretty girl with big body shaking it hard, especially the Sportsroids.com crew. Andressa has posed for playboy so I would say we aren't the only ones who have taken notice of this Brazilian babe. Therefore,   Andressa we salute you as one of our own! You will always have a home at Sportsroids.com
You are by far my favoriate brazilian celebrity! We loved you in playboy, so we just wanted to say  May you live forever and dance harder with ever passing day.  I sure wonder if this girl will ever make it to 7th speed? And for all those you-tube booty shakers out there take a lesson from the best, grow a butt!
I love this girl. She has been all over the media the last 10 years, and for god reason she is just freaking hot! This lady has been ranked within the Top 100 players in the world. She however has fallen out of the spotlight due to injury but we have seen her in epic battles with the likes of Sharapova and Kournikova so she might have passed your radar. This Lady has also posed for playboy as you can tell so make sure you check out the videos and sexy photos of this perfect tennis start. Ashely Harkleroad we Salute you!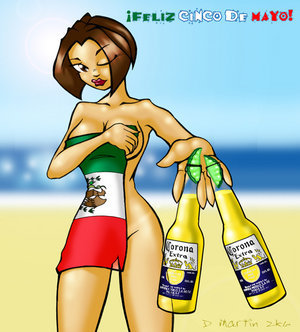 WE love all holidays, but we especially love holidays that make it socially acceptable for us to drink and get SMASHED! As you all know Cinco De Mayo is a great holiday to meet girls at your local bar. We would like to salute all the hotties that were out tonight celebrating the festivities!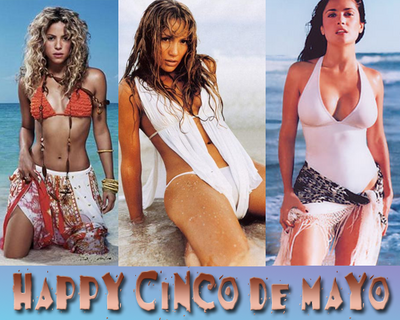 Many of you may be asking, "What is Cinco De Mayo?"
Cino De Mayo is a Mexican Holiday that is observed by drunks world-wide, commemorating the day the Mexicans defeated the Imperialist nation of French and gained their independence on the 5th day of the May in 1892! Cinco De Mayo literally translates to "The 5th of May".
I love the burgh, but I will tell you the reason has nothing to do with football. It's the cheap bars, food and women that did it for me.  I went to school out there and being form New York I had a lot of adjusting to do. The one thing I noticed,  that rocked, In Pittsburgh, every girl in the city loved the NFL and watched the Pittsburgh Steelers, religiously. That's awesome, because chicks in jerseys acting all hot and drunk and stuff rules! Nothing more American than that! Well Since I doubted the Steelers last season, I feel I owe it to the Steelers nation to post up some hot pictures of some of the steel cities finest, so without a further adieu please enjoy this subculture of the Steelers Nation.
Everyone Loves Plaxico!! haha great video with Pittsburgh Hottie!

Fully Loaded 2007 Mini Cooper S
The Mini was given to Sara Jean Underwood as a present for being the 2007 Playmate of the Year. Sarah Jean Underwood as been seen in several mainstream movies already! The most recent was Miss March where she played herself at the Playboy Mansion in Beverly Hills, CA!
Sara has driven it for a few years now and it seems to be in great condition. Personally, I know a lot of guys would love to just sniff the seats in this bad boy.  I know DD and Theboinger would!!
Since Sara has moved back to Oregon she no longer needs this vehicle, so she is selling it.  This very car has been in Playboy Magazine and has also been seen on the E!'s "The Girls Next Door" TV show. Without a doubt this car has the fame to be on the radar of every real car collector. If you want to see the ebay listing just click here!
Sara has some pretty hot pictures on the net!